How It Works
What is Flavor of the Month Club?
The Flavor of the Month club is a gourmet popcorn subscription where you'll receive two bags of our top flavors every month. Subscription box not right for you? No worries, you can place non-subscription orders of any flavors as often as you'd like!
What size are the bags?
Most of our bags hold 8-10 cups of our delicious popcorn! If you scroll over the tongue emoji in the upper left of each flavor image, you'll notice the description of each flavor will pop up, along with the approximate cups per bag for that flavor as well!
What if I want to send a gift box?
Wanting to send a gift? Popcorn is the perfect gift! Simply check the box "Make it a gift" at checkout. Your order will be given a free gift packaging upgrade & the option to include an enclosure card. We guarantee your gift recipient will be begging for more!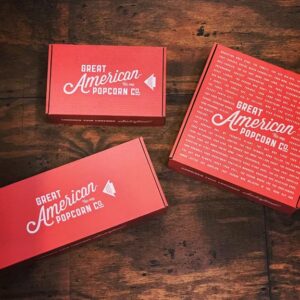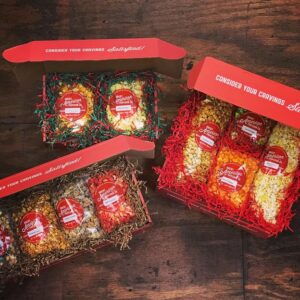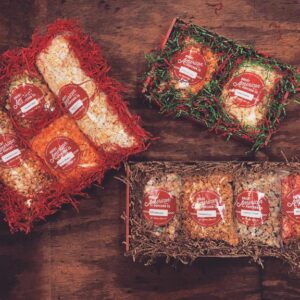 I placed my order! Now what?
First off, we sincerely appreciate your patronage! After you place an order, you will be sent a confirmation email. Once your order is made & ready to be shipped, you will receive a separate shipment confirmation email that will include a tracking number so you can track the status of your goodies. The usual processing time for an order is 1-3 business days. All our popcorn flavors are made to order, so be aware that there is a chance your order will not ship out the same day you place it. But rest assured, we are working tirelessly to get your delicious, fresh popcorn delivered to your door.
Your gourmet popcorn will arrive in our famous red box. Packaged with care, each flavor is hand-packed fresh for you! Depending on how many bags of popcorn you order will determine what size box you will receive. We bet you can't wait for the anticipation of seeing that bright red box on your front porch!
Should you have any issues or questions please don't hesitate to give us a jingle at 815.777.4116.
How can I place a Corporate Order?
Our bright red box is one of the most popular gift options we offer for our corporate clients. Make a statement to your client, partner, staff, or just about anyone on your list! Great for sharing or keeping to themselves. The option to send various unique and scrumptious gourmet popcorn flavors is a sure-fire way to make a lasting impression. We also handcraft our own homemade fudge & chocolates and carry an assortment of candies & saltwater taffy that make rockin' additions to our red boxes. The options are endless!!
Want some fresh ideas? Price quote? Please give us a call at 815.777.4116, and we will be more than happy to help provide your recipients with a gift they'll be sure to ask for every year.
Looking for some "Covid Friendly" sharing options to send to an office of deserving folks? We got you covered! Shoot an email to victoria@greatpopcorn.com or give us a call & we can help!
Don't forget to ask about our corporate discounts!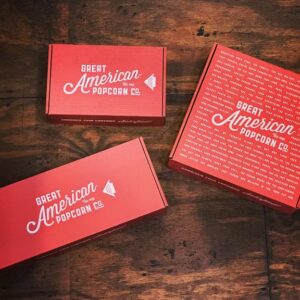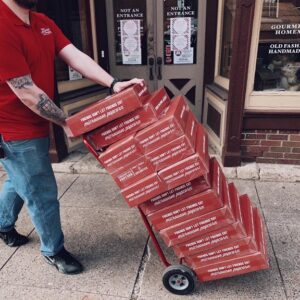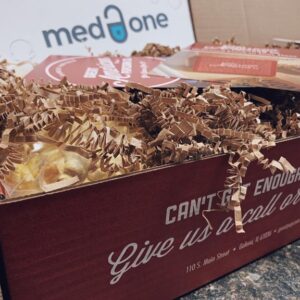 Do you provide nutritional or calorie information?
All our products are manufactured in a facility that uses dairy, nut, wheat and soy products. While we try our best to not cross contaminate our flavors, we do advise our customers with any of these allergies to consume at their own discretion or not at all. Nothing is worth your health.
Calorie Information: There are worse vices in life than delicious, handcrafted popcorn. Life is short, eat the dang popcorn!
I don't see my favorite flavor on the website! HELP!
Don't panic!! We're here to help! Should you not see the flavor you're looking for on this website, please give us a call and place your order over the phone. One of our wonderful staff members will be happy to help make sure you get exactly what you're looking for.
We make so many flavors it's hard to keep them in stock all the time, but we will always make anything anyone asks us to and ship it right to your door! We look forward to satisfying those taste buds.
Where do you ship?
There's not a place in the world we won't ship to. Our gourmet popcorns are made fresh daily to satisfy anyone's cravings all around the globe! Alaska? You bet! The UK? All the time. Midwest America? Duh. Cairo? A couple of times. Finland? Let's make it happen!
We also ship to military APO/FPO addresses. Domestic or Overseas, we will always send our service men & women some of the best popcorn in the world! All packages being sent to our honorable service members get some extra lovin' & goodies added in as a small token of our appreciation for their service. It's the least we can do!
Give us a call, and we would be more than happy to help you place your order over the phone 815.777.4116.
I need some party favors for my special day!
Let us help make your special day POP! Whether you want to do a popcorn bar or individual party favors, we can help make your event something to remember. Our favors are the perfect option for your wedding, shower, or corporate event. The options are endless & we always do our best to provide you with the yummiest popcorn your guests have ever tasted!
Shoot an email to victoria@greatpopcorn.com and we'll send over some detailed information to get the ball rolling.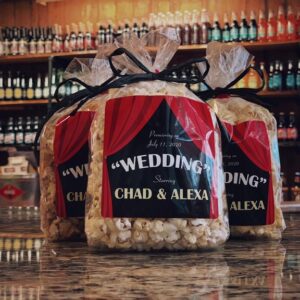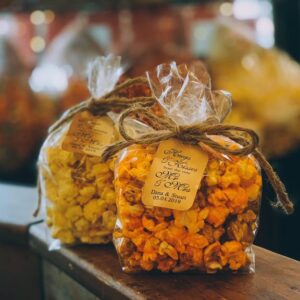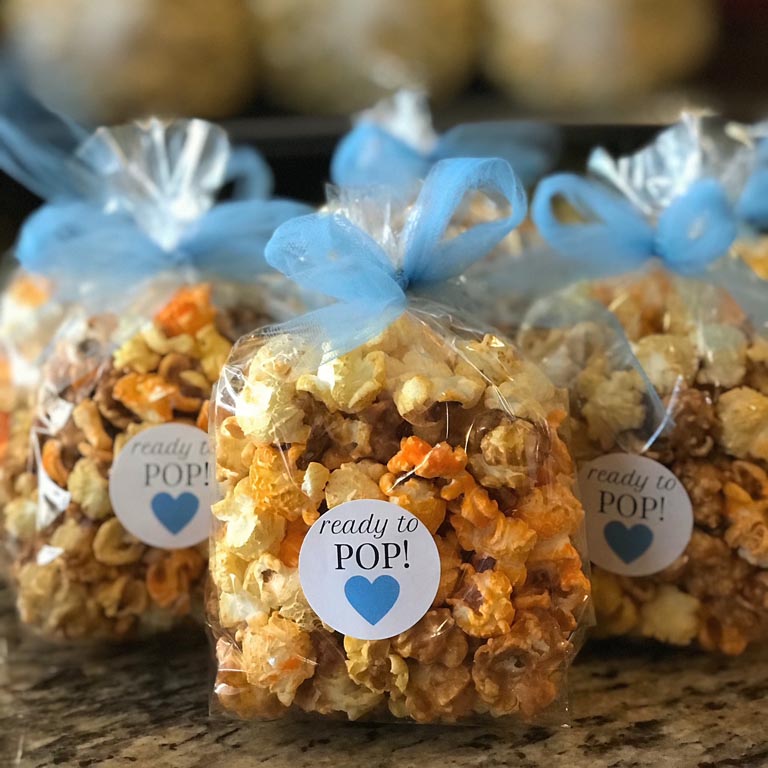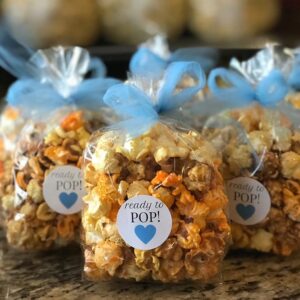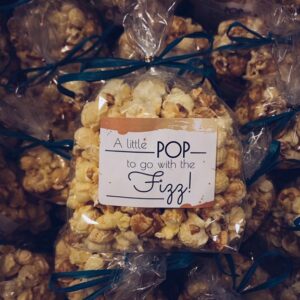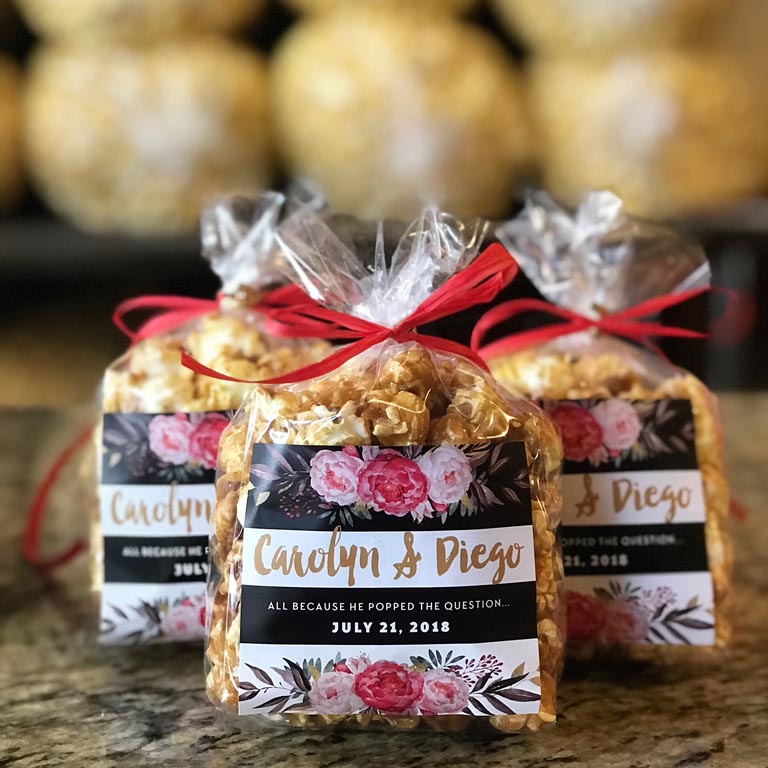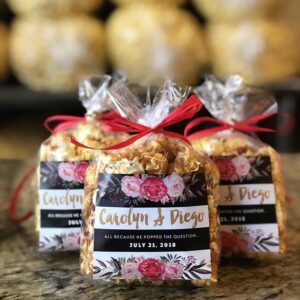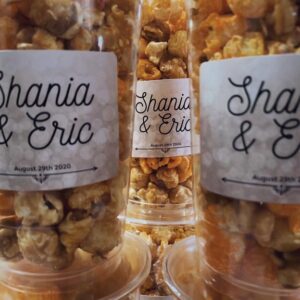 How do you come up with your recipes?
Do you want the truth? 27 years of messing around, lots of taste testing, and many experimental failures later; we have a ton of fun creating new and exciting flavors that you won't find anywhere else. From day one, we've put our high standards to the test in creating some of the best tasting popcorn in the world. Our goal is to give you something mind-blowing to remember & keep you crawling back for more. In our 27 years in business, we have created over 350 different popcorn flavors. In-store we have nearly 70 flavors made fresh daily for you to enjoy. If you're ever in our downtown Galena, IL location, please make sure you SAMPLE your heart out. Sampling is always highly encouraged.
What is Kernel Cash and how does it work?
Kernel Cash is Great American Popcorn's new periodic rewards promotion. Earn $5 Kernel Cash for every $30 you spend per order before tax and shipping. Once you've placed your order you'll receive an email with your Kernel Cash! Read the full rules and restrictions.
How do I contact customer service?